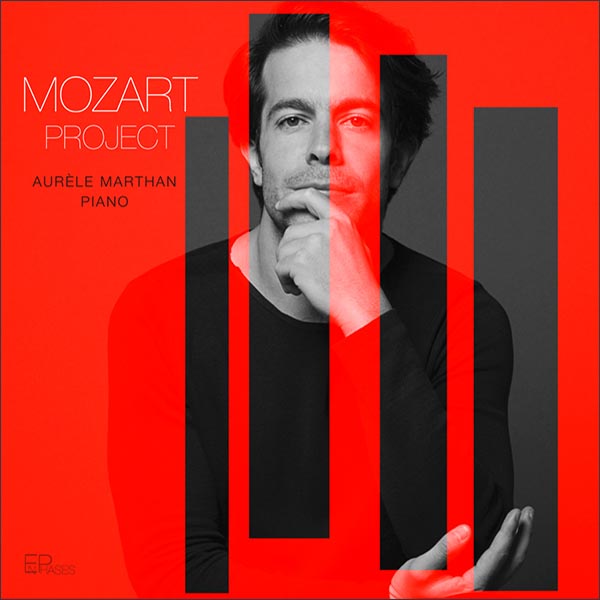 Mozart Project
AURÈLE MARTHAN, PIANO
LABEL ENPHASES, DISTRIBUTION OUTHERE
ENP003
Sortie : 22 juin 2018
Concerto pour piano et orchestre K.415 version pour piano, quatuor à cordes et contrebasse
Quatuor Hanson :
Anton Hansonc : Violon
Jules Dussap : Violon
Gabrielle Lafait : Alto
Simon Dechambre : Violoncelle
Etienne Durantel : Contrebasse
Quintette pour piano, hautbois, clarinette, cor et basson en Mi bémol Majeur K.452
Philibert Perrine : Hautbois
Amaury Viduvier : Clarinette
Guillaume Begni : Cor
Rafael Angster : Basson
Sonate pour piano n°4 en Mi bémol Majeur K.282
Quintette pour piano, hautbois, clarinette, cor de basset et basson en Si bémol Majeur K Anh. 54 (452 a)
Philibert Perrine : Hautbois
Amaury Viduvier : Clarinette
Olivier Derbesse : Cor de basset
Rafael Angster : Basson
"I wanted to bring together three expressions of Mozart's piano, my favourite composer since I was very young, with a score for solo piano, two chamber music works for piano and winds and a piano concerto in a version for piano and string quintet. To serve these masterpieces, I have chosen the most talented musicians whose Mozart aesthetic is closest to mine."
Listen to samples: Mozart Project
Aurele Marthan belongs to the new generation of performers who possess both virtuoso and simple playing, without displaying demonstrative dexterity..." writes Victoria Okada about her Ravel disc, recorded at the Fazioli Concert Hall in Sacile, under the Polymnie label.
Aurelius began playing the piano at the age of four. He studied piano and chamber music at the CNSM in Paris, at the Istituto Superiore di Cremona in Italy and at the Royal Academy of Music in London where he obtained his Master's degree as a soloist. He was mainly taught by Denis Pascal, Maurizio Baglini and Tatiana Sarkissova as well as, for chamber music, by Philippe Bernold, Emmanuelle Bertrand, Eric Le Sage, Paul Meyer and Itamar Golan in whose class he obtained his Master of Chamber Music at the CNSM in sonata with the flutist Mathilde Caldérini.
He has also benefited from the masterclasses of Pascal Devoyon and Imogen Cooper.
Aurèle has been invited to perform as a soloist and as a chamber musician in France and abroad, at the Salle Pleyel, the Maison de la Radio, at the Couvent des Récollets as part of the Festival des Pianissimes, at the Salle Cortot as part of the "Nouveaux Virtuoses", at the Invalides, at the Hungarian Institute, at the Théâtre de l'Alliance Française, at the Festival Chopin at the Orangerie de Bagatelle, at the Palais des Congrès de Lyon, at the Festival de la Vézère, at the Rencontres Artistiques de Bel Air, at the Festival Debussy, at the International Festival "Les Musicales du Parc de Wesserling", in Italy at the Cremona Theatre and at the Fazioli Hall in Milan, in South Korea, in China, in London at the Steinway Hall, Parliament Chamber and St James's Church Piccadilly, in Vienna in Austria, in Germany. ..
He will make his debut at the Colmar International Festival in July.
He also regularly participates in radio broadcasts on France Musique and Radio Suisse Romande, where he played live at the Clara Haskil Competition in 2011. In 2016, he was a quarter finalist in the Queen Elisabeth International Piano Competition.
He is the founder and artistic director of the "Classic à Guéthary" festival, and has taken over the artistic direction of the "Classique au naturel" festival, the first edition of which will take place in Orthez in May 2018.
Follow us on the networks!