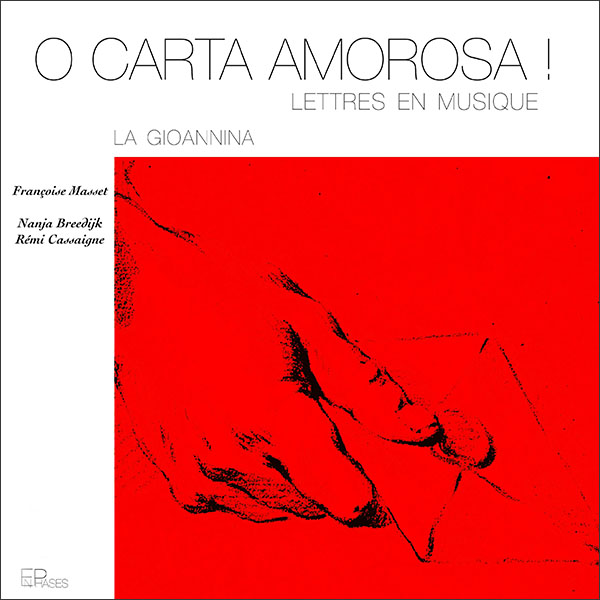 O CARTA AMOROSA !
LETTRES EN MUSIQUE
Françoise Masset, chant
La Gioannina
Nanja Breedijk, Harpe triple , Simon Capp, Rose Green, 1996
Rémi Cassaigne, Théorbe, Klaus T. Jakobsen, 2009 & Guitare baroque, Ivo Magherini, Brême, 2008
LABEL ENPHASES, DISTRIBUTION OUTHERE
ENP006
Sortie : 14 juin 2019
Atto Melani - Scrivete occhi dolenti
Girolamo Frescobaldi - Aria detta La Frescobalda
Alessandro Stradella - Lettera a Bella Donna Crudele
Girolamo Kapsberger / Carlo Gesualdo - Com'esser può
Girolamo Frescobaldi - Vanne, ó carta amorosa
Vincent Bouchot / Michel Butor - Twitter
n° 1 - Le gazouillis au bout des doigts
n° 1bis - À la prochaine fois
n° 3 - Prends tout ton temps
n° 4 - Murmures dans le petit matin
n° 5 - Un peu plus, un peu moins
n° 6 - J'ai tellement marché aujourd'hui
Claudio Monteverdi - Lettera amorosa
Girolamo Frescobaldi - Canzon quinta
Marco Antonio Negri - Queste dogliose stille
Alessandro Piccinini - Toccata quarta
Marco Antonio Negri - In queste bianche carte
Giacomo Carissimi - Scrivete occhi dolenti
Domenico Scarlatti - Sonata 89
Benedetto Marcello - Lettera del Signor Carlo Antonio Benati scritta alla Signora Vittoria Tesi
Cécile Chaminade - Ma première lettre
Enregistré au Studio Sequenza, Montreuil, les 8, 9, 10, &11 octobre 2018 
Prise de son : Thomas Vingtrinier 
Direction Artistique : Vincent Bouchot
From the emergence of the stile rappresentativo (Monteverdi's famous Lettera Amorosa) and the monodic madrigal (Frescobaldi, Negri) to the flowering of bel canto (Carissimi, Stradella, Melani) - and its parody (the very burlesque and unpublished Lettera del Signor Carlo Antonio Benati scritta alla Signora Vittoria Tesi by Marcello) -, the letter in music is approached in the golden age of the Italian cantata by numerous composers.
La Gioannina reveals a hidden and exemplary facet of the history of the Italian cantata, following its resonances up to a contemporary creation by Vincent Bouchot on texts by Vincent Bouchot on unpublished texts by a major poet of our time, Michel Butor.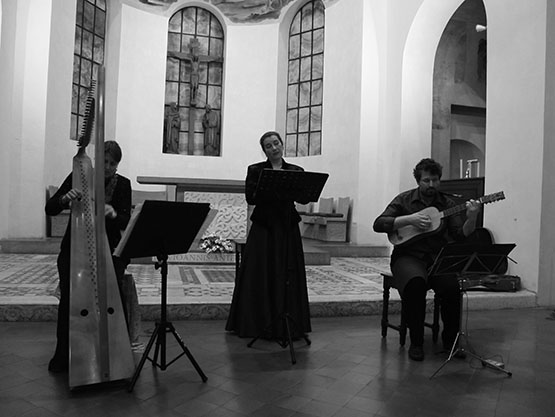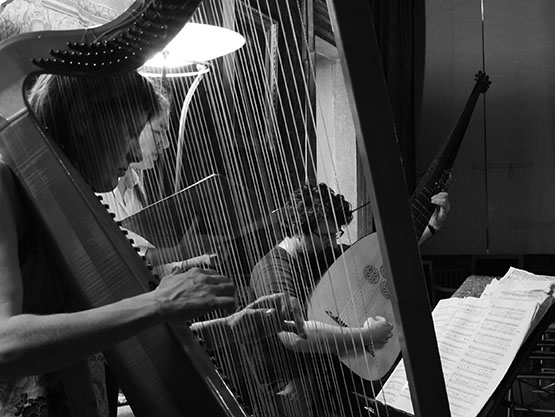 The ensemble La Gioannina brings together harp and lute, sensitive strings, for a curious and free exploration of the repertoire from the Baroque period to the present day. Founded in 2012 by Rémi Cassaigne and Nanja Breedijk, the ensemble, in collaboration with Françoise Masset, has devoted two recordings to Orazio Michi dell'Arpa (1595-1641).
Nanja BREEDIJK covers all the horizons of the early harp, from the renaissance harp to the single pedal and double movement harp. She has been playing for many years in several early music ensembles (Les Arts Florissants, Le Poème Harmonique, La Main Harmonique, Les Paladins), in small and large concert halls (Philharmonie de Paris, Berlin) and prestigious festivals (recently the Berlioz Festival), and she regularly participates in opera productions (recently with Les Arts Florissants: Monteverdi's Orfeo). She has recorded numerous CDs, notably with the ensembles Les Arts Florissants (Monteverdi's madrigals), Le Poème Harmonique, Akadêmia, À Deux Violes Esgales and with the countertenor Philippe Jaroussky. She teaches ancient harps at the CRR of Versailles, as well as basso continuo at the CNSM of Paris. She is co-founder with Rémi Cassaigne of the ensemble La Gioannina which has released its first CD 'E che vuoi più?' with unpublished music by the composer and harpist Orazio Michi Dell'Arpa.
Rémi CASSAIGNE studied the lute with Pascale Boquet at the CNR of Tours, then in Eugène Ferré's class at the CNSMD of Lyon. Today, Rémi Cassaigne plays with ensembles such as Le Baroque Nomade, Consonance, Le Concert d'Astrée, Jacques Moderne, Double Face. With harpist Nanja Breedijk, he founded the ensemble La Gioannina in 2012, whose repertoire is based on his research in Italian libraries. Author of several novels and numerous translations, he wrote the libretto for an opera performed in Dijon in February 2014 and teaches at the ESMD in Lille.
Hailed by the critic Ivan Alexandre as one of our rare, last female singers, Françoise MASSET performs on stage, in concert and on recordings, a diversified repertoire, from the baroque to the contemporary, which testifies to her curiosity and her taste for musical encounters. On stage, she created Michèle Reverdy's Médée at the Opéra de Lyon and has sung in recent years in Jean-Philippe Rameau's Les Indes Galantes, Claudio Monteverdi's The Coronation of Poppea and Il Ritorno d'Ulisse (Les Paladins/J. Correas), Janacek's Cunning Little Vixen (TM+/L. Cuniot) and Maurice Ravel's L'Enfant et les sortileges (Musica Nigella/T. Nemoto). She favours recitals and chamber music, and creates original programmes with La Gioannina/R. Cassaigne and N. Breedijk and Les Musiciens de Saint Julien/F. Lazarevitch. She was awarded the Orphée d'Or 2010 for the best interpreter of melodies for the album Les Compositeurs de Marceline Desbordes-Valmore and recently recorded with the pianist Anne Le Bozec for the Hortus label, two programmes dedicated to the First World War.
Follow us on the networks!