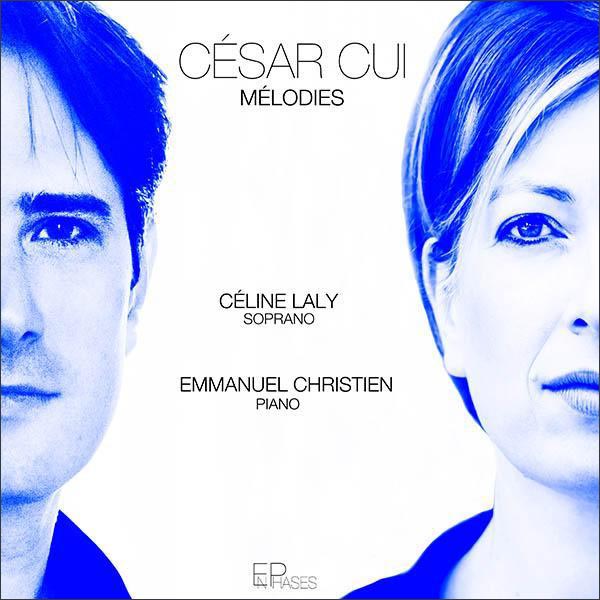 César Cui (1835 - 1918)
MÉLODIES
CÉLINE LALY, SOPRANO
EMMANUEL CHRISTIEN, PIANO
LABEL ENPHASES, DISTRIBUTION OUTHERE
ENP005
Release date: 12 October 2019



20 Melodies on texts by Jean Richepin op.44 (1890) (en 4 cycles)
Te souviens-tu d'une étoile ?
Te souviens-tu du baiser ?
Video made during the recording
Villefavard Farm - 2018
RECORDED ON THE OCCASION OF THE CENTENARY OF THE DEATH OF CÉSAR CUI
The programme on this disc marks the story of a rare artistic encounter: that of a Russian officer, also a composer admired by Franz Liszt, and a member of the Group of Five, and a French writer, an academician, as prolific as he was sulphurous. It is the crossing in the middle of the 19th century of the music of César Cui and the verses of Jean Richepin, it is the birth of an improbable corpus of melodies (opus 44), a hybrid and unprecedented form between songs, romances and lyric pieces. It is a vocal and literary work that has been forgotten today, and which deserves a fair return to the melody repertoire. This opus is set against an earlier cycle (opus 23), also devoted to Cui's relationship with the great poets of his time. The Countess Mercy-Argenteau, who promoted the dissemination of the work of the Group of Five in Europe, is the dedicatee of these two cycles. She was very close to César Cui for many years and ended her life with him in Russia.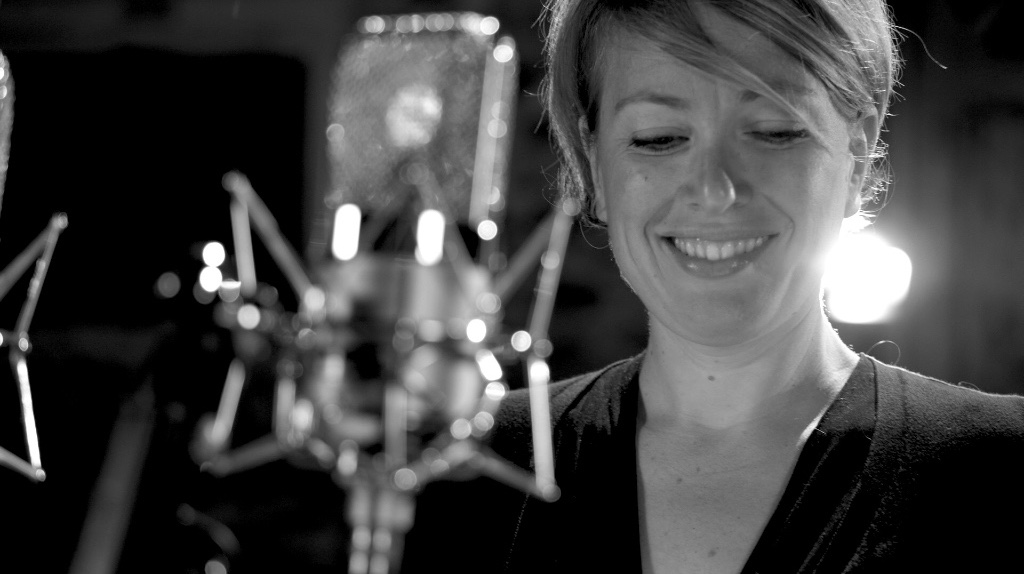 An eclectic performer, Céline Laly trained in the opera genre in several institutions in Europe (Paris, Vienna and Rome). Very early on, she also favoured her taste for chamber music, and took part in numerous more intimate projects.
Her vocal studies in Rome (Opera Studio - Accademia Santa Cecilia) and Vienna (Universität für Musik und Darstellende Kunst), as well as at the Conservatoire National Supérieur de Musique de Paris (Prix de Chant et de Musique de chambre) led Céline Laly to perfect her skills with Thomas Quasthoff, Renata Scotto, Kiri Te Kanawa and Ann Murray. Winner of the 2011 Concurso Internacional de Canto Montserrat Caballé, she is personally encouraged by the artist. This meeting will be decisive.
On stage, her taste for the theatrical and dramatic approach to the singer's work leads her to pieces such as Erwartung (Schoenberg), Pelléas et Mélisande / Mélisande (Debussy), Peer Gynt / Solveig (Grieg) or Kátia Kabanová / Varvara (Janacek). This last production, directed by André Engel and premiered at the Théâtre des Bouffes du Nord, received the Grand Prix du Syndicat de la critique for the best opera production of the year.
In opera, Céline Laly sings the roles of Mélisande (Debussy), Varvara (Janacek), Alcina (Haendel), Rosina (Rossini), Zerlina (Mozart), Micaela (Bizet), Gianetta (L'Elisir d'amor), Colette (Rousseau), Marguerite (Hervé), Stella (Viardot), in the productions of J-L Pichon, O. Achard, R. Préchac, M. Reichler, P. Thirion-Vallet, A. Guillou (Opéra de Marseille, Opéra d'Avignon, Cité de la Musique, Théâtre Déjazet, Théâtre des Variétés...).
She performs as a soloist with the Ensemble baroque de Limoges (C. Coin), the Pulcinella ensemble (O. Gaillard), La Risonanza (F. Bonizzoni), La Clique des Lunaisiens (A. Marzorati), La Petite Symphonie (D. Isoir), Archimusic (JR. Guedon), Les Frivolités Parisiennes... She also collaborates with the Indian dancer Mallika Sarabhai (Darpana Academy of Performing Arts - India).
A passionate chamber musician, it is perhaps towards the melody and Lied repertoire, which she explores relentlessly, that her musical temperament carries her most spontaneously. Her collaboration with musicians and actors such as Pascal Amoyel, Emmanuelle Bertrand, Maguelone Parigot, Audrey Vigoureux, Didier Sandre, Damien Roussineau, Agnès Adam... gives rise to very personal musical and literary projects.
She also founded the TriO Sélectif with Emmanuelle Brunat (clarinets) and Maxime Echardour (percussion), an ensemble that revisits the musical theatre of Jean-Pierre Drouet, Georges Aperghis and Tom Johnson in particular (contemporary music movement of the 70s and 80s).
For the KMI label, she sings the role of Bubikopf in Victor Ullmann's "Der Kaiser von Atlantis", under the direction of A. du Closel.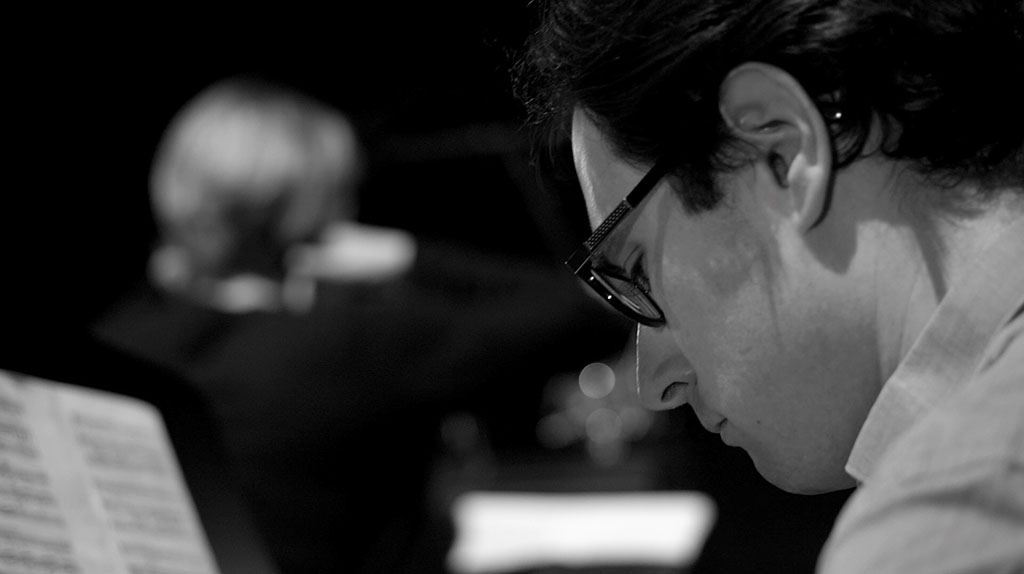 Emmanuel Christien brilliantly obtained his piano prize at the Conservatoire National Supérieur de Musique de Paris, in the class of Jacques Rouvier, as well as his prizes for chamber music and vocal accompaniment.

He has received advice from Jean-Claude Pennetier, Aldo Ciccolini, Paul Badura-Skoda, Anne Queffélec, Ruben Lifschitz and others.
He has won prizes in several international competitions (Casagrande competition, Vlado Perlemuter competition), and is also a laureate of the Alfred Rheinold Foundation, which gave him a Blüthner piano.
Emmanuel Christien has been invited to perform as a soloist and as a chamber musician in prestigious concert halls and festivals (Saint-Denis, Folle journée de Nantes, La Roque d'Anthéron, Radio-France Montpellier, les Pianissimes, les Athénéennes, Chopin à Bagatelle, Festival Berlioz, Salle Pleyel, Théâtre des Champs-Elysées in Paris...), in Europe, Japan, India, Canada, Russia...
He has performed in concerto with the Conservatory Laureates Orchestra, the Caen Orchestra, the Moldavian Chamber Orchestra, the Montpellier Languedoc-Roussillon National Orchestra, the Orchestre de Paris, and with conductors Didier Talpain, Stefan Asbury, Lawrence Foster, Cornelius Meister.

Passionate about the chamber music repertoire, he shares the stage with artists such as David Fray, Adam Laloum, Clémentine Margaine, Amaya Dominguez, Hughes Borsarello, Gauthier Herrmann, Samika Honda, Jean-Claude Pennetier, Dame Felicity Lott, the Artie's family... as well as the Monsolo ensemble and the Gallien trio.
He regularly participates in projects combining theatre, literature and music (Winterreise company).
He has been heard on the radio in the programmes Génération jeunes interprètes, Dans la cour des grands, L'Atelier du chanteur...
He was artistic director of the Musique en portées festival, launched in 2014.
His latest album devoted to Robert Schumann's Fantasiestücke was released in 2018.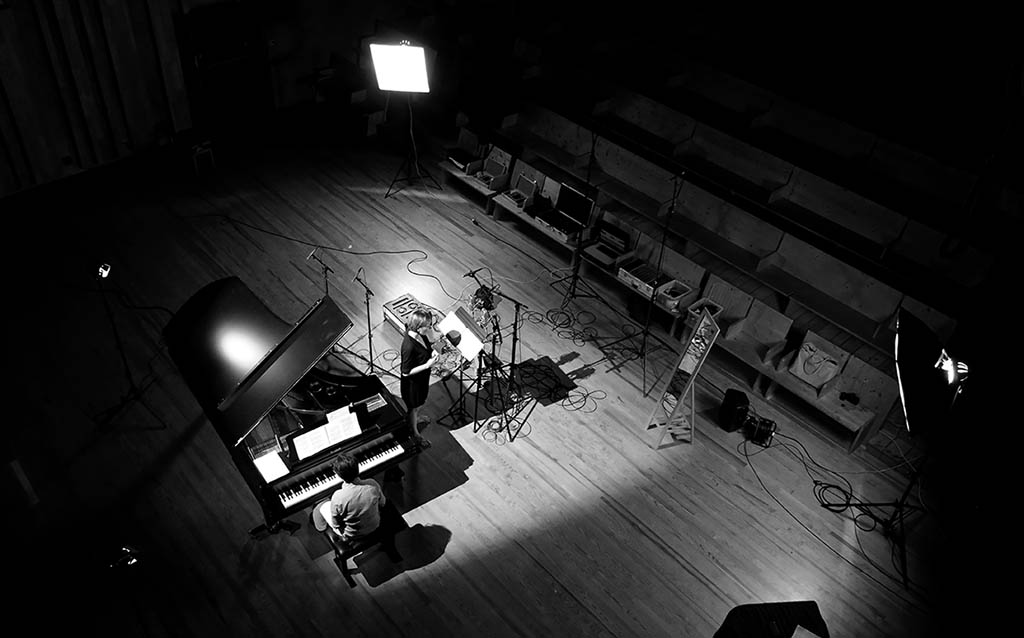 Follow us on the networks!