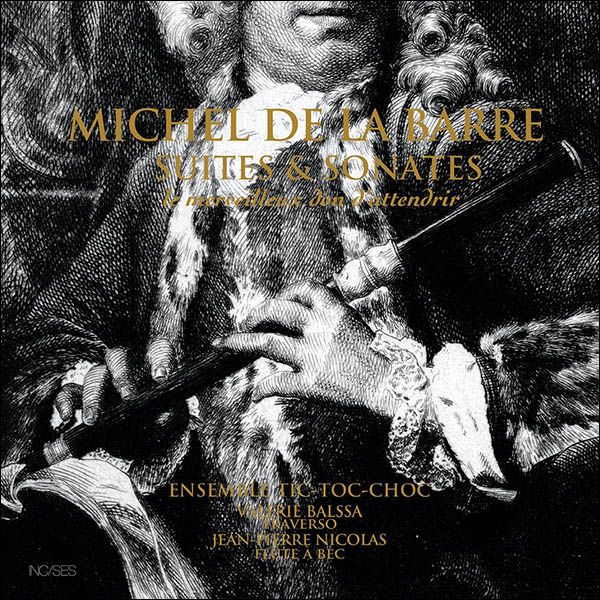 Michel de la Barre
SUITES & SONATES
ENSEMBLE TIC-TOC-CHOC
VALÉRIE BALSSA - JEAN-PIERRE NICOLAS
COFFRET DE 2 CDS - SORTIE LE 22/01/2021
LABEL INCISES - DISTRIBUTION OUTHERE
INC004

Michel de la Barre (né à Paris vers 1675, mort à Paris le 15 mars 1745)
--
Enregistré en l'Église Saint Lambert des Bois en mai & juin 2017
Prise de son / Direction Artistique / Montage :
Franck Jaffrès / Unik Access
Traduction / Translation :
John Skippen
Conception / Photos de l'enregistrement :
Sybille Walter
CD1
Deuxième livre de pièces pour la flûte traversière avec la basse continue
IXème suite en sol Majeur
Sonate. "l'inconnue"
Troisième livre des trios pour les violons, flûtes et hautbois, mêlés de sonates pour la flûte traversière
IIIème sonate en mi mineur
Deuxième livre de pièces pour la flûte traversière avec la basse continue
IIème suite en do mineur
Troisième livre de trios pour les violons, flûtes et hautbois, mêlés de sonates pour la flûte traversière
IIIème suite en si mineur
CD2
Premier livre des trios pour les violons flûtes et hautbois
Ière suite en do mineur
Premier livre de pièces pour la flûte traversière avec la basse continue
IIème suite en sol Majeur
Troisième livre des trios pour les violons, flûtes et hautbois, mêlés de sonates pour la flûte traversière 
Ière suite en sol mineur
Premier livre de pièces pour la flûte traversière avec la basse continue
Vème suite en ré mineur
Valérie Balssa, Flûte traversière d'après
Jean-Jacques Rippert (1645-1724) d'Andreas Glatt Flûte Piccolo d'après Jean Hyacinthe Rottenburgh (1672-1756) de Alain Weemaels
Jean-Pierre Nicolas, Flûte alto, flûte de voix et flûte soprano d'après Peter Bressan (1663-1731) de Ernst Meyer, 2008
Miguel Henry, Théorbe d'après Matteo Sellas (1580-1661) de Hendrick Hasenfuss, 1992
Guitare d'après Alexandre Voboam (1634/46-1692/1704) de Didier Jarny, 2010
Emmanuel Balssa, Basse de viole à sept cordes, d'après Michel Collichon (1666-1693) de Stephan Schürch, 2010
Michèle Dévérité, Clavecin Alain Anselm
About (by Valérie Balssa)
To play Michel de la Barre is to tell an intimate story. This flute-playing composer was said to have "a marvellous gift for moving people" and the poet Antoine Houdar de la Motte praised him in an ode entitled "The Flute": "Thus your enchanting flute, La Barre, inspires tenderness; everything is inflamed by your victorious sounds. Love itself becomes more tender. So much praise for the man who is considered today as the leader of the French flute school. The latter had just been born, in its new baroque form, more apt to express the subjectivity of the performer and the works.
La Barre said of his pieces for solo flute and bass, "the first to be published for this kind of flute": "these pieces are for the most part of such a singular character and so different from the idea that one has had up to now of those suitable for the transverse flute, that I had resolved not to let them see the light of day until I performed them myself.
Before the recorder, known as the flute douce, gradually fell into disuse, supplanted by the transverse flute or German flute, which was very fashionable in the 18th century, these two instruments combined their subtle differences within the musical ensembles of the time. This is why we decided to take on these differences and to unite our sounds in a tender complicity, whereas it would have been easier to play on two similar instruments.
This choice allowed us to work freely on the colours of the trios: the choice of the first or second voice for one or the other, the exchanges that occur within the same movement, the different combinations with the instruments of the continuo, the varied stops of the harpsichord, everything is good to illuminate, colour and enhance as much as possible the timbre of each flute. Finally, the ultimate goal was the sound reproduction of our project. A detailed work with the sound engineer, our precious ally, was able to preserve the personality of each instrument and to enhance the timbres... With a little magic.
About Tic-Toc-Choc Ensemble
The Tic-toc-choc ensemble, named after a harpsichord piece by François Couperin, was founded by Valérie Balssa. Together, they share a love of French music from the late 17th and early 18th centuries, and cultivate the subtlety so well described by Jean-Philippe Rameau:
"Whether a piece of music is as well rendered as it can be, it will always lack that certain je-ne-sais-quoi which makes it all worthwhile if it is not guided by feeling. Too much or too little, too early or too late, more or less time in the suspensions, in the swollen or diminished sounds, in the beats of the trill called cadences, in short, this right precision that the expression requires, the situation, once missing, all pleasure becomes insipid".
Follow us on the networks!