Silentium - Motets
pour taille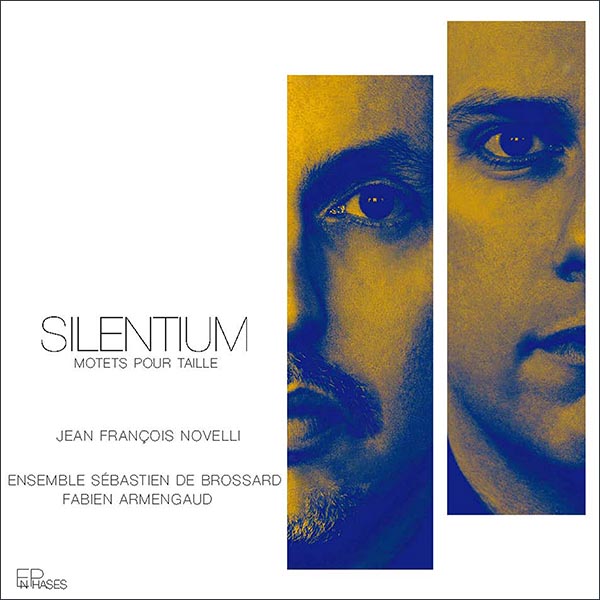 Silentium
MOTETS POUR TAILLE
JEAN-FRANÇOIS NOVELLI
ENSEMBLE SÉBASTIEN DE BROSSARD
DIRECTION FABIEN ARMENGAUD
LABEL ENPHASES, DISTRIBUTION OUTHERE
ENP001
Sortie : 7 mars 2018
Sébastien de Brossard / Silentium dormi
Pierre Bouteiller / O salutaris Hostia
André Campra / Quis ego Domine
Henry Du Mont / Allemande
Marc-Antoine Charpentier / O pretiosum et admirabile convivium
André Campra / Nunc dimittis
Jean-François Novelli : Taille
Stéphan Dudermel et François Costa : Violons 
Stéphanie Petibon :  Théorbe
Marc-Antoine Charpentier / Salve Regina des Jésuites
Louis Couperin/ Simphonie
Marc-Antoine Charpentier / Lauda Sion salvatorem
Pierre Bouteiller / Tantum ergo
Yuka Saïtô et Matthieu Lusson : Violes de gambe
Fabien Armengaud : Orgue, Clavecin & Direction
Teaser of the disc
Silentium - Motets for size
Listen to excerpts from the disc
Silentium - Motets for size
(...) This recording, dedicated to the repertoire of the 'voix de taille', a repertoire that is too often neglected today, is skilfully interspersed with instrumental pieces by Henry Du Mont, whom Brossard judged 'very excellent', and by Louis Couperin, whom he recalls as having given Roberday a subject for a fugue. A musical Grand Tour, then, which leads us (perhaps) into Matho's library, but also more surely into those of Brossard and Düben.
"This programme is the evocation of an imaginary library, that of Jean-Baptiste Matho, famous singer of the Chapelle Royale under the reign of Louis XIV. A musical testament at the turn of the 18th century, in the very special world of the petit motet for taille (tenor), calling on Charpentier, Campra, Bouteiller, Suffret and of course Brossard, who calls out to us with this magnificent exordium: 'Silentium. Dormi in hortis dilecta mea. Silentium. Sleep in the gardens, my love.
About the Sébastien de Brossard Ensemble

The choice of a composer as a mentor for an ensemble is not a trivial matter.
My first encounter with Sébastien de Brossard took place in 2003 during the recording of his trios and cantatas.
Since then, his music has never left me and it seemed obvious to me to place my new ensemble under the auspices of this composer.

Why him?
First of all for the quality of his music: "With diminished sounds, Brossard, forming his basses, made sparkling graces shine in his designs."
Serré de Rieux

Then of course for his curiosity:
"When Brossard with his big nose
The shops searched
There is nothing left of Sensez
Que d'autres voudroient acheter ".

But also for his modesty:
"I must admit, the court is a country whose roads and detours I know so little about that if someone is not kind enough to act as my guide, I run a great risk of getting lost.

Brossard was a ferryman.
May the Ensemble Sébastien de Brossard be in his image.

Fabien Armengaud
Follow us on the networks!