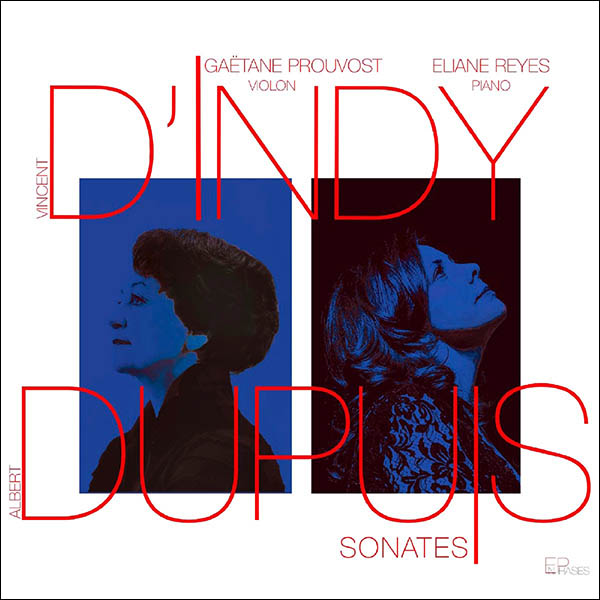 D'Indy - Dupuis
SONATES
GAËTANE PROUVOST, piano - ELIANE REYES, violon
LABEL ENPHASES - OUT 13/03/2020
Distribution Outhere - ENP007
--
Recorded at:
Stephen Paulello's studio July 2019

Sound recording / Art direction / Editing:
Franck Jaffrès / Unik Access

Cover photos:
Manuel Gouthière, Bernard de Keyser
Conception:
Sybille Walter
This disc pays tribute to the Franco-Belgian school of violin. In the tradition of Franck's famous sonata, Vincent d'Indy's sonata is associated with that of his little-known disciple, the Belgian Albert Dupuis: a revelation, recorded here in its world premiere, as well as an early Andante by d'Indy, joined by a superb piece by Ermend Bonnal.
ALBERT DUPUIS (1877-1967)
Sonate (1er enregistrement mondial)
VINCENT D'INDY (1851-1931)
Andante (1er enregistrement mondial) 
ERMEND BONNAL (1880 -1944) 
Après la tourmente 
Gaëtane Prouvost, violon 
Eliane Reyes, Piano
This CD brings together two world premiere recordings: the Sonata for violin and piano by the Belgian composer Albert Dupuis and an unpublished early Andante by his teacher at the Schola Cantorum: Vincent d'Indy. In a subtle play of mirrors between two generations, Gaëtane Prouvost and Eliane Reyes have had the happy idea of placing these two rare works side by side: d'Indy's Sonata and Après la tourmente, a short piece by Ermend-Bonnal, a composer who is enjoying a well-deserved resurrection these days.
The Sonata in C major, Op. 59, is the first of d'Indy's great mature sonatas before those for piano (1906) and cello and piano (1925). For a disciple of César Franck, composing a sonata for violin and piano is not a trivial act. Although the genre had been in favour in France since the end of the Second Empire (Castillon, 1868; Lalo, 1873; Fauré, 1877; Saint-Saëns, 1885 and 1896), Franck's Sonata, revealed in 1886, represented for d'Indy 'the first and purest model of the cyclical use of themes in Sonata form'.
Although he had noted the first theme as early as 1896, d'Indy did not begin composing the sonata until the summer of 1903 in the mountains of the Ardèche, and completed it the following summer. Paradoxically, he anticipated that the new work would be 'very simple and not very cyclical'. In the end, it is entirely governed by this principle of construction, the main motifs of the initial Modéré feeding into the themes of the other three movements. Like Franck's sonata, which was dedicated to Eugène Ysaÿe, the composer intended his sonata for a Belgian violinist, Armand Parent (1863-1934), who taught at the Schola Cantorum from 1900 to 1933, and premiered it with him in Paris on 3 February 1905, a few days before its first performance in Brussels.
The first movement, in which the composer confided that he had 'let himself go to the melody', is a sonata form in which the two instruments, despite a 'mysterious' central episode, unite their voices in complete serenity. The ensuing scherzo (Animé), which is lively and facetious, gives the impression of a chase between violin and piano, with a long, beautifully shaped melody as a trio. The Très lent is one of d'Indy's most beautiful pages: it contrasts the nobility and simplicity of its main theme (sections 1, 3 and 5) with magical arpeggios from the piano enveloping a meditative violin melody (sections 2 and 4). The very lively finale is a spirited rondo-sonata whose refrain theme fuses the three main motifs of the work. The master-pupil relationship continued in reverse between d'Indy and Albert Dupuis. Born in Verviers, a short distance from Liège, the birthplace of César Franck, Dupuis studied with d'Indy from 1897 to 1900 and won the Belgian Prix de Rome in 1903. Director of the Verviers School of Music for forty years, he is the author of thirteen operas and unjustly neglected chamber music. Although he seems to have composed two movements of a violin sonata as early as 1904, his Sonata in D minor, dedicated to his wife and published in 1922, has all the hallmarks of a mature work. It shares with those of Franck and d'Indy a similar melodic profusion and a very elaborate cyclical construction. The initial Modéré, whose supple and elegant swing is reminiscent of d'Indy's sonata, is followed by a mischievous Allegro scherzo in sonata form with a rondo feel. The third movement (Lent), eminently expressive, is dominated by several themes whose vehemence is underlined by a fiercely chromatic harmony. As for the Allegro appassionato finale, it is carried away in a tumultuous momentum, in which, as in his master's sonata, reminders of the preceding movements are mixed in.
Unlike Albert Dupuis, who was only three years younger, Joseph-Ermend Bonnal was not trained at the Schola Cantorum but at the Paris Conservatoire. Having studied the organ with Alexandre Guilmant, co-founder of the Schola, and succeeded Charles Tournemire at the organ loft of Sainte-Clotilde, of which Franck had been the first incumbent, he is related to the Franckist family, but as a pupil of Gabriel Fauré, he is an independent musician. Born in Bordeaux, Ermend-Bonnal drew his inspiration from the Basque country where he settled, becoming director of the Bayonne Conservatory in 1921. He wrote, among other chamber music works, a Sonata (1900) and several pieces for violin and piano, including Après la tourmente, a romance in A major dedicated to Queen Elisabeth of Belgium. An amateur violinist, the Queen of the Belgians was also dedicated his Second Sonata for violin and piano (1917) by Fauré. Ermend-Bonnal probably composed this piece around 1919 as a tribute to the sovereign of a country that had been severely tested by the Great War.
In 1876, the year he attended the first Bayreuth Festival, d'Indy composed an Andante for piano and violin. Read in December at a meeting of the committee of the Société nationale de musique, this piece remained unpublished and does not appear in the catalogue of his works. The manuscript, found by Tobias Broeker, bears the dedication: 'to my dear Comrade Bernis, better late than never! The violinist and violist Jean Bernis (1857-1889), who at the time was a member of d'Indy's circle and who also dedicated a Cantabile for viola and piano by Théodore Dubois, had a short career with the Société des concerts du Conservatoire and the Opéra-Comique, and in 1884 took part in the premiere of the definitive version of Fauré's first piano quartet. This Andante in C minor remains a testimony to the friendship between the two young men, and its main theme recalls by its solemn character another work by d'Indy, also unpublished: the andante from his chivalric symphony Jean Hunyade (1874-1875).

Gilles Saint Arroman
Follow us on the networks!